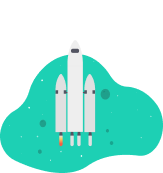 Kickstart & Analysis
At this stage, we collect information from your side about your project and your requirements. We will communicate with you about each requirement you need in your project and how it is needed. We will analyze all requirements and provide you a quote.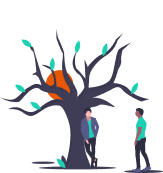 Visualize
Once all requirements are analyzed and we go through the quote, we will start visualizing your project with the help of wireframes, mock-ups, or UI & UX design. You will have a choice to choose the way you would like to visualize your project.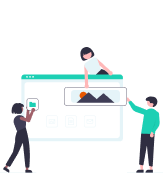 Build, Test & Launch
Once you are happy with the visualization of your project, we will build the project as per requirements, test it extensively and finally make it live. Further, we will guide you for any technical needs of your project if needed as well as for the management of the same.
World

is our home

We are a fully remote company, and because of that, it is easier for you to reach us, no matter where you are located in the world. This means you as our customer, get flexible timings to communicate with us. It saves you time and money, which also helps us to provide better and quality custom software development services to you as the customer at affordable prices.
"It was simply great from beginning to end. Parth was very good at keeping me in the loop. He even did more than was asked of him. I was very very glad with his work. Strongly recommend to anyone."
Michael Laplume, Mayor of the Township of Potton, Canada
"Parth was extremely professional from A to Z. Recommended. Thanks Parth!"
Kieran Duffey, Copywriter Brisbane, Australia
"Parth is very friendly and technically savvy and seems to work all hours of the day and night! He did everything I'd asked for and more. I'll be using his services again for sure."
Niki Singh, President NationStores LLC, United States
"Easily the best company I have ever worked with. If you get chance to employ, do it! They were available at all times, completed the work very fast and their communication skills are the incredible. Absolutely fantastic, I will hopefully be working with them again very soon."
Joshua Richardson, United Kingdom